July Social
TUESDAY 7TH JULY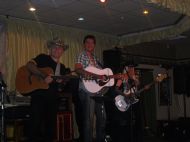 Well on stage we had Darren Busby, Tim McKay & Katie Rhodes, what an absolute pleasure to see and dance and listen to these 3.
Katie began the evening, followed by Tim then Darren, each did an excellent first spot which kept the dance floor near to bursting and the humorous banter that constantly goes on between these three is hilarious and it comes across that they are all thoroughly enjoying themselves. Surely that's what it's all about.
Once again we had a full hall with the dancers eager to take to the floor with every note played. You can see why Tim won the best Male entertainer last year, he certainly knows what to sing and how to get the audience eating out of the palm of his hands. Since Tim first came to the Bootscooters we have seen him mature rapidly into a 6 foot tall handsome young man, but sorry girls, he's most definitely spoken for and with Darren Busby destined to be his future father-in-law, it is lovely to see how well they get along.
Darren a most professional entertainer, with a superb mellow voice, he really is a pleasure to listen to and a perfect gent to boot. So totalling unassuming and again also a winner of many awards, well deserved.
Finally, Katie Rhodes - well Katie was relatively (and I use the term sparingly )- shy and nervous when she first appeared on our stage. But like Tim another transformation over the 2 years she has been on the circuit. The confidence just oozes in her fantastic voice and performance and with Darren and Tim on the same bill, Katie shows just what a comedienne she is at heart. Another fabulous couple of spots. It's always nice to see Ady as well - Katie's ' sound man' or as she refers to him ' her live in lover' - a really nice genuine couple.
All three most welcome at the Bronze anytime - I'm sure we'd love to have them back.
As usual with the Bootscooters, a free supper was included in the ticket price - tonight it was jacket spud with chilli, beans, cheese or in some cases all three, accompanied by freshly buttered crusty bread. The usual selection of cheesecakes followed with ice-cream or cream. This must have been very well received by the 110+ crowd as there was none to take home, only a few crumbs and empty containers.
Another huge raffle with over 40 prizes and a big thank you to anyone who donated prizes - hopefully the winners were spread far and wide, although we did notice Tombstone take a couple!!!!!!
Again Bill and I must thank our band of helpers, as always you do us proud and help to keep the evening running smoothly, our servers, raffle seller, room organisers and to anyone else I may have missed a very BIG THANK YOU.
And finally, although Bill wasn't his usual bouncy self, hopefully he is getting better, but thanks for your cards and kind gifts for his birthday (a special one) very very much appreciated - you are a great bunch of people.
Our next Social will be in October, so please keep an eye on the website for details - again something special.
Brian, Brenda & Ev

Tim McKay

Ev, Ronnie & Jenny

Dancing to Boyfriend of the Year

Darren Busby

Clair , Barbara & Terry

A full house

Katie on stage

Karen and Geoff

Alison & Ian
---